---

---
ON THIS PAGE:
---
NEW HAMPSHIRE CALENDAR
Below are listed some upcoming events in New Hampshire that might be of interest to MOAA-NH chapter members. If you know of an upcoming event within the state, email us the date and any details.


Upcoming events in NH that might be of interest to MOAA-NH members
(top)

---
DFAS Retired and Annuitant Pay Changes Mailing Address
The Defense Finance and Accounting Service's addresses changed effective May 1, 2017. The old addresses are being discontinued and will be replaced by addresses in Indianapolis. The new addresses are:
Retired Pay:
Defense Finance and Accounting Service
U.S. Military Retired Pay
8899 E 56th Street
Indianapolis IN 46249-1200
Annuitant Pay:
Defense Finance and Accounting Service
U.S. Military Annuitant Pay
8899 E 56th Street
Indianapolis IN 46249-1300
The old PO Boxes in London KY will remain open and all mail will be forwarded to the new address for one year. However, sending mail to the old address will add three to five days to the normal processing time. The telephone and fax numbers are not changing.
For additional contact information: https://www.dfas.mil/retiredmilitary.html
(top)

---
Pease Greeters, S.O.S.--STOCK OUR SHELVES!!!
The Pease Greeters is an honored group of volunteers who greet flights of service men and women, at the Pease Air Terminal in Portsmouth, NH, both returning and heading overseas to the Middle East. They provide hot coffee, doughnuts, pizza and other refreshments as well as a bank of twenty permanently mounted phones for use free of charge by the veterans. In addition to greeting flights at Pease, they manage a Care Package Program. In the combat theaters of the Middle East our troops can not always get to a PX. Pease Greeters send care packages, of sundry items, to our troops that include personal care products, food snacks and more.
Every summer, with everyone on vacation and schools closed, the Pease Greeters' Inventory for Care Packages gets low. They ship 600 pounds a month, which are 40 cartons, for over 105 soldiers on their list. Below are some of the items they are low on. Small sizes so items can be carried in back packs - nothing in large bottles or packages unless the large package contains many small packets.


dried fruits - small pkgs.
nuts - sm. pkgs.
coffee 1 lb. and tea,
tuna snack packs
body powder
women's socks
Sizes 8 oz
mouthwash
shaving cream
foot powder (lg. and sm.)
lg. shampoo
lg. bar soap
For more information and where to drop off the items, go to the Pease Greeters website at http://www.peasegreeters.org/events.htm and scroll down to "SOS Care Packages". Any donation would be appreciated. Gift cards are welcomed. THANK YOU in advance from our Troops.
(top)

---
NEW HAMPSHIRE ATTORNEY GENERAL ISSUES TIPS FOR
GIVING TO VETERANS CHARITABLE ORGANIZATIONS
Attorney General Joseph Foster issues these practical guidelines for New Hampshire residents who want to make donations to help our veterans.
(top)

---
LIBERTY HOUSE NEEDS YOUR SUPPORT
For more than a decade, Liberty House in Manchester, NH has been providing a safe, supportive, substance-free housing community for American veterans transitioning out of homelessness. Since opening their doors in 2004, their dedicated team of staff and volunteers has helped more than 200 homeless veterans rejoin their communities and regain fulfilling, independent lives. The Liberty House website (www.libertyhousenh.org) has a list of items that its veterans need. Click here to view their recent "WISH LIST".
(top)

---
NEW HAMPSHIRE 211
Get Connected. Get Answers
211 is the number to dial when you need help or don't know where to call. By dialing 211 information is much easier to find. 211 is a free and confidential call from anywhere in NH. 211 is person-to-person assistance. 211 is available 24/7 with translation assistance in over 150 languages. Click here for more information. Read a promotional card listing some of the many resources available through New Hampshire 211.
(top)

---
VETERANS CHOICE CARD INFO FOR NH VETERANS
You MUST have a street address, NOT a Post Office Box to receive a Veterans Choice Card. So, list both the street address and the POB with the VA. Suggest calling the VA at whatever contact number you have and make sure your address is NOT a POB. For more information on Veterans Choice Cards, click here.
(top)

---
VETERAN LICENSES NOW AVAILABLE FOR NH VETS AND SERVICE MEMBERS
New Hampshire veterans and active-duty service members can now proudly show proof of their service on their New Hampshire drivers licenses. Under the Veterans Indicator program, military service members on active duty or veterans who have been honorably discharged from the United State armed forces can indicate that status when applying for or renewing their driver's license or non-driver's ID. There is no additional cost for the Veterans Indicator. Veterans wishing to add the Indicator to their license before its renewal can get a replacement license for a $3 fee. Veterans Indicator licenses are now available at all Department of Motor Vehicle locations throughout New Hampshire. Click here for more information on Veterans Indictor program. Click here for the new drivers license application form.
(top)

---
VETERANS HOME IS SEARCHING FOR SOME SPECIAL VOLUNTEERS
The New Hampshire Veterans Home is looking for a few good men – or women – to volunteer for a special mission to serve some of the Home's most challenged residents.
A special group of volunteers, to be called the Highlanders, is being sought to spend some hours with the veterans in the Home's Highland Hall unit, an area where many of the residents are in the end stages of various forms of dementia or have other severe health challenges that may limit their ability to respond and communicate.
Communication and support at these times can take various forms – reading, playing familiar music, sometimes just a smile or a simple caring touch. The important thing is just being there for these men and women who have served our country. Volunteers for this special service would be trained by the Home's staff to engage those veterans through a wide variety of techniques including sensory stimulation, aroma therapy, music therapy or Snozelen, a multisensory environment designed to help those with developmental disabilities, dementia or neurological problems to regulate how much sensory stimulation they want to experience.
The New Hampshire Veterans Home depends heavily on the kindness and generosity of many veterans' service organizations and individuals who give their time to support the veterans here. If you feel called to and suited for this special volunteer service, please contact NHVH Volunteer Coordinator Lisa Punderson, 603-527-4449, or Social Worker Kristen Griffin, 603-527-4812, for more information.
(top)

---
VETERANS BENEFITS GUIDE – HOW TO UNLOCK YOUR VETERANS BENEFITS
There are hundreds of benefits available to military veterans. From health care to education and training, tohousing assistance and more. But sometimes it can be difficult to know which veterans benefits are out there,and which you may be eligible for. Part of the problem is the sheer number of benefits programs, and part ofthe problem is misconceptions about who is eligible for these programs. These topics and more are covered in this Veterans Benefits Guide, and provides the resources needed to find more information about eligibility and how to apply.
(top)

---
COMPREHENSIVE LIST OF LINKS TO HELPFUL VA WEBSITES
Click here for a list of links to websites that provide information on Veterans benefits and how to file/ask for them. Accordingly, there are many sites that explain how to obtain books, military/medical records, information and how to appeal a denied claim with the VA. Nearly 100% of this information is free and available for all veterans, the only catch is: you have to ask for it, because they won't tell you about a specific benefit unless you ask for it. You need to know what questions to ask so the right doors open for you and then be ready to have an advocate who is willing to work with and for you, stay in the process, and press for your rights and your best interests.
(top)

---
VA Releases New PSA Targeting Women Veterans
"The Right Place" Assures Female Vets of High-Quality VA Care
The Department of Veterans Affairs has developed a new public service announcement (PSA) to let women Veterans know they've come to "The Right Place" when seeking VA health care. Read their press release.
(top)

---
SHARE Your Experience and Help Veterans Get the Care They Need!
PLEASE, take a few minutes RIGHT NOW to SHARE (Survey Helping to Advance Recovery Efforts). This quick & confidential survey will benefit today's veterans dealing with post-combat injuries and help veterans for years to come. See the flyer for more information on how to complete the survey online. If you prefer, you can complete the suvey by hand and mail it to the address indicated. All information will remain confidential. Please help support this important program.
(top)

---
A Little-Known Benefit for Aging Veterans
Here's a riddle: When is a government benefit that pays for caregivers, assisted living and a nursing home not a benefit? When hardly any people know they're entitled to it.
That seems to be the story with a Department of Veterans Affairs benefit called the Aid and Attendance and Housebound Improved Pension benefit, known as A&A, which can cover the costs of caregivers in the home (including sons and daughters who are paid to be caregivers, though not spouses) or be used for assisted living or a nursing home. READ MORE
(top)

---
DO YOU QUALIFY FOR VETERAN'S BENEFITS?
The attached fact sheets provide a wide range of information about both Federal and NH State veteran's Benefits.
Do You Qualify For Federal Veteran's Benefits?
Do You Qualify For NH State Veteran's Benefits?
(top)

---
FEES AT NH STATE VETERANS CEMETERY (NHSVC)
The following information was provided by chapter member Col Michael W. Horne, NHANG (Ret.), Director, NH State Veterans Cemetery:
- For a veteran to be interred at the NH Sate Veterans Cemetery, there is no charge (NHSVC provides the cemetery plot or columbarium niche, the burial, and the ordering/installation of headstone or niche marker, and perpetual care). NHSVC then collects the veteran's burial fee directly from the VA.
- For the interment of a veteran's spouse or dependent child, they charge $350.
[Note – the spouse and if dependent children are interred in the same grave or columbarium niche as the veteran. The $350 covers administrative costs, opening the grave (burial), ordering, installing the headstone with additional spouse information, and perpetual care.]
NOTE: if the interment is a casket, "the funeral home" charges the veteran/family for the casket and the required concrete vault. The good news is NHSVC does not require a vault for in ground cremains so that isn't an additional cost to anyone.
NHSVC encourages all veterans considering to be interred there to submit an application now and get pre-certified. Pre-certification makes it SO much easier on family members when a veteran or spouse dies. Print out the attached application, fill in the requested information, attach a copy of your DD214, NGB22, etc. and mail or fax it to them.
Check out their web site at http://nhsvc.com/front.php Any questions, please contact Michael Horne.
(top)

---
Click on the link above for a partial listing of veterans support organizations in the state of New Hampshire provided by the New Hampshire State Veterans Advisory Committee.
(top)

---
PEASE GREETERS
The Pease Greeters is a group, started by the Seacoast Detachment, Marine Corps League, who greet flights of service men and women, at the Pease Air Terminal in Portsmouth, NH, both returning and heading overseas to the Middle East. They provide hot coffee, doughnuts, pizza and other refreshments as well as a bank of twenty permanently mounted phones for use free of charge by the veterans. If you want to learn more about this worthwhile group or to volunteer to be a greeter, visit their website at http://www.peasegreeters.org/
(top)

---
SUPPORT OUR TROOPS
Go to http://www.letssaythanks.com/ read the instructions. Pick a card. It will be sent to a member of our armed forces who is serving overseas.
(top)

---
For information concerning military awards and medals refer to the following official Department of Defense web sites.
Army: https://www.perscom.army.mil/tagd/awards/index.htm

Air Force: http://www.afpc.randolph.af.mil/library/awards/index.asp

Navy: https://awards.navy.mil/

Marine Corps: https://kuwait.manpower.usmc.mil/manpower/mm/mmma/awards.nsf?open

(top)

---
These are New Hampshire's Men and Women who made the Supreme Sacrifice in Iraq and Afghanistan.
(top)

---
The 2015 Federal Benefits Book for Veterans and Dependents
(top)

---
New Hampshire State Veterans Advisory Committee (SVAC)
Biannual Report for May 2017
(top)

---
Support The Troops - Information For The Community
MOAA-NH Chapter member LCDR David Kenney, USN, who is also president of the New Hampshire Reserve Officers Association, has compiled a guide that provides online and local resources for those seeking information or wanting to provide care packages, etc. for deployed troops. This is only a guide – there are many other sources available through national organizations like the Red Cross and the USO. View the guide in HTML format or PDF format.
(top)

---
NH National Guard Establishing a "Yellow Pages" Directory
The NH National Guard Family Program has established a "yellow pages" directory of volunteers to assist families of deployed troops. Anyone can volunteer who has a trade or skill that can help a family in need. These skills could be snow removal, carpentry, automotive maintenance, financial planners or computer technical assistance. The volunteer decides which part of the state to give assistance. This could be a specific town, county or region. If you are interested in providing any volunteer services, please e-mail First Lieutenant Suzanne Barricklow at suzanne.barricklow@us.army.milor (603) 227-1496. This is a challenging time for our deployed service members and their families and any assistance you can provide will be greatly appreciated.
(top)

---
Military and Federal Employee Discounts
The attached two lists (Military Discounts & 174 Stores and Business ...) shows restaurants, products, etc. that supposedly offer discounts to military and federal employees. Some companies may only offer the discounts to active duty military and not retired military. Whether discounts are offered and how much may vary amoung individual locations. The bottom line is that it doesn't hurt to ask!
Whaleback Mountain in Enfield, New Hampshire, offers a discount for unlimited season ski passes for vets. Passes that normally cost $399 are $99 for active duty military and for vets, with proof of service. Check out their web site at http://www.whaleback.com/season-passes.html.
(top)

---
In addition to the locations listed on the page link above, you can also find the nearest ID card issuing facility by clicking on the following link - http://www.dmdc.osd.mil/rsl/appj/site?execution=e5s1.
(top)
---
The Military Retiree's Ready Reference Of Telephone Numbers
(top)

---
DOWNLOAD MOAA-NH DESKTOP BACKGROUND
Do you want to spruce up your computer's desktop?
Download the Zip file of the MOAA-NH desktop background wallpaper!
(It requires a Zip program, such as Win Zip, PKZip, etc. to open the file.)
Choose from 640x480, 800x600, 1024x768 or 1280x1024 screen resolutions to fit you desktop.
This is what it looks like: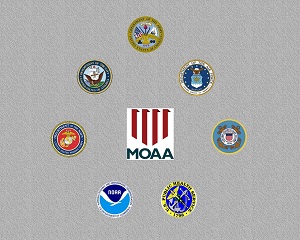 (top)

---
Hot Items | Contacts | TRICARE | Program Notes | Chapter News | Membership Info |
Newsletter | Group Travel | Transition Assistance | Odds and Ends